Right up front, almost 35 years after our first attempts in the late 80s to produce no-sulfur wines, today we present our first "natural wine". Our Sangiovese 2022 without added sulfur, from the Valdifalco winery. More about this at the end of this article!
For now, we want to talk about "natural wine" in general. It's probably been one of the most heated discussions in the wine industry for a few years now.
What actually is natural wine?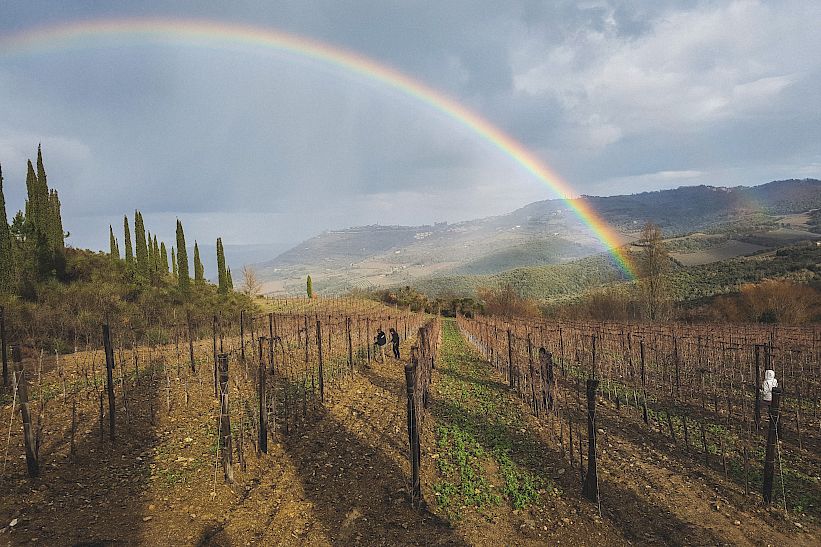 What do orange wines, cloudy bubbly wines, and amphorae have to do with natural wine? And how much sulfur do natural wines actually have? Is the oft-quoted statement "The winemaker makes as little as necessary, nature as much as possible." true? So many questions and no clear answers.
Historically, the modern natural wine movement probably has its roots in biodynamic viticulture. At its core, it's about working close to mother earth. Back to nature and handcraft instead of artificial additives and technology.
The term natural wine is not protected. Unfortunately, to this day there is no legal basis for who can call their wine a natural wine and who cannot. Or from the point of view of the many creative minds of the natural wine scene - fortunately - because there are almost no normative limits, as long as it is not certified as a quality wine. The diversity of wines has increased greatly thanks to the natural wine movement, confirming as well as questioning many things.
Generally speaking: "Every organically grown wine is a natural wine, but not every natural wine is certified organic."
Cultivation and vinification of natural wine
How do we position ourselves in this ocean of possibilities for wine growing and vinification?
To clear up all misunderstandings right away, we have been making natural wines since 1979, soon to be 45 years. The movement itself around these "new natural wines" has only really taken off in the last 10 to 15 years and fascinates especially the younger generation.
For us, the vineyard is the starting point of all natural wines. Whoever produces "nature wine", "natural wine", "near-natural wine" or similar, should first and foremost do so in the vineyard. Biodynamic viticulture is the basic requirement for us. As natural as possible - creating a wine with respect to nature. Biodynamics and homeopathy help us to better understand the plant. You can read more about this in our blog post "Biodynamics in Action".
"Anyone who does not cultivate their vineyard according to organic or biodynamic (or near-natural) guidelines should have no right to call their wine a natural wine. Even if one produces musty cloudy orange wines."
The bone of contention, however, is and always has been what happens in the cellar all the way to bottling. For it is here that opinions about natural wine differ the most.
For some, it means simply letting the grapes and wine do their thing - almost no intervention during vinification, no sulfur, no filtration. For others, it's about maceration for white grapes with intensely colored skins (orange wines) or months of maceration for both red and white grapes, even in amphora. Spontaneous bottle fermentations (Pet Nat) are also very popular and at the same time stigmatize natural wines.
When winemakers want to produce natural wine, there are basically 2 common objectives that differ from the classic winemaking.
"Natural wines give more expression to the terroir, the origin of the wine, as well as more wholesomeness to the wine in taste."
And it is in this supposedly common objective that the stumbling block for many discussions around the topic of "natural wine" is hidden.
Why? Because the term "terroir" is understood very differently (also wrongly) by most and because (almost) everyone claims their own wholesomeness. But here, too, there is a lack of a common denominator.
Where do we position the Loacker wines?
You know us - we live biodynamic viticulture. For us, it is the right way in the confusion of modern agriculture. In winemaking, Hayo Loacker has always relied on gentle cellar techniques that fit our terroir.
Hayo's aim: "To create wines in a natural way that remain fresh and wholesome, have a promising tension and character as well as longevity. These are our key elements."
Natural wines and their technical characteristics
Are we actually able to break down this phenomenon of natural wines to a few common technical characteristics (grape production omitted up front)?
The possible variations seem endless and promise great variety. Whether fermented with cultured or wild yeasts, whether immediately pressed or eternally long contact with the grape skins, whether stored in the amphora or locked in the steel tank, whether with or no added sulfur, whether bottled unfiltered, cloudy or filtered - they are all individual products, which in themselves can all meet the claim of a natural wine.
Basically, all natural winemakers "play" with the same 3 to 5 elements in the cellar.
Casks, yeast, maceration, clarification, and sulfur.
What comes of it, each natural wine winemaker decides for themself.
It seems clear that between the one extreme "oeno-fruttarian" and the other meticulous "high-tech freak" there are still thousands of own interpretations. And all of them are considered natural wines.
Loacker's path to natural wine
What are our key elements for natural winemaking today?
Let's stick to the 5 basic elements quoted above when working in the cellar to illustrate our way of working.
As for the casks, besides steel and wood, we have been using concrete and baked clay (terracotta) for almost 20 years. The alternate use of different materials allows us to give more tranquility and balance to the wines. Wholesomeness when drinking is the logical consequence of this.
As for the yeasts, all our wines are fermented with our own vineyard yeasts. However, fermentation does not happen completely "spontaneously", but with a yeast starter. Each year, certain grapes are harvested earlier and made into a "pied de cuve". The yeasts which are naturally present on the grape skins, the sugar of the grapes, and the warmth of the sun allow the fermentation to start. With the help of this yeast starter, the other musts get inoculated so that they start fermenting directly.
"The use of natural indigenous yeasts is to us synonymous of a natural wine."
To us, yeasts continue to contribute significantly to the further maturation of the wine even after fermentation as fine yeasts.
Maceration, the contact of the wine with grape skins during and after fermentation, influences the taste of the wine. The longer the mash floats in the wine, the more edgy and sometimes musty the wines become. Therefore, the wine needs long aging times in the barrel afterward.
If you make white wines with skin maceration, the wine becomes dark yellow to orange.
"In principle, we try to let all our wines macerate for as long as the variety, selection, and vintage can best tolerate."
Today maceration in white wine only takes place in our Timeless series. In Sauvignon, a portion is also fermented on the skins, which extracts intense green flavors and adds complexity to the overall blend.
Clarification of wines is basically about stabilizing the wines. Every winemaker must ask themselves how they prepare their wines for the journey to the consumer. The main components of a wine, like alcohol, acid as well as residual sugar, influence the microbial stability of the same, other substances, such as proteins or tannins, define its physiological stability.
It is important to us to guarantee the storability and also transportability of our wines. For this, we need stable wines, for which clarification (fining or filtration) is necessary.
Sulfur is also a supporting factor here. Because sulfur preserves: It inhibits microorganisms and prevents oxidation, so aging.
In general, it can be said that Loacker wines have between 50-90 mg/l total sulfur. According to EU guidelines, 250 mg/l total sulfur is allowed for dry wines, and between 100 and 150 mg/l for organic wines.
"So the bottom line is to make the wine stable without sacrificing wholesomeness, freshness, and longevity."
The secret recipe for a stable natural wine?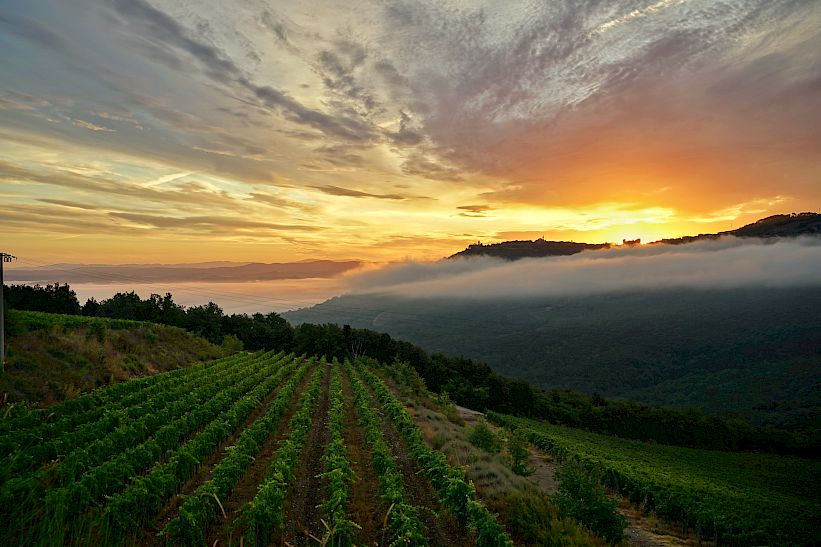 Good question! The balance between sulfur and filtration is different for every wine. A few grape varieties make it easier, a few harder. The shifting climatic conditions also bring in a lot of change here.
Let's try to explain: In a wine with good acidity and pH levels, with malolactic fermentation completed without a problem, we have a wine that has microbial stability. To bottle this wine unfiltered and with little sulfur is not a problem. If we have a wine that will age in the cellar for several years and should still launch with fresh flavors, we need to add sulfur during aging to protect the wine from premature aging notes.
"It's a complex issue. One thing is clear though - we try to intervene as little as possible."
If a wine, offers the basic conditions, we need no or minimal amounts of sulfur and maybe a light filtration. If a wine does not have them, it is filtered and sulfurized to guarantee storability, that is, longevity.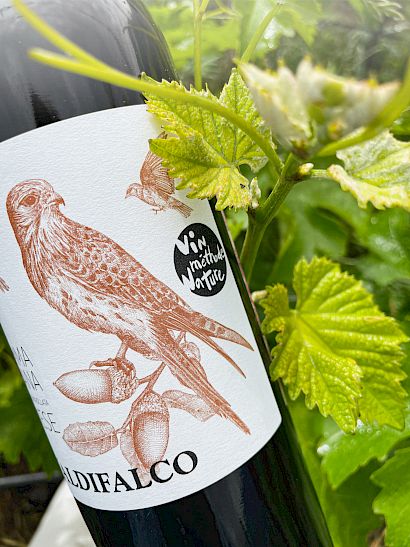 In our new product, Sangiovese 2022 DOC Maremma Toscana, we haven't added SO2. Nevertheless, the 2022 has developed natural sulfites. The wine was lightly filtered on cardboard and closed with glass stoppers.
The glass stopper is considered to preserve the primary fruit flavors of the young vintage despite weak sulfur levels.
Taste for yourself and get your own impression of our new natural wine!